BE CAREFUL, ATHLETICS CAN TEAR CHARACTER DOWN
In Marv Dunphy's PHD Dissertation John Robert Wooden: The Coaching Process, Coach Wooden discussed the topic of athletics building character:
Much has been said about athletics building character. I think they can build character and I also think they can tear it down. I think athletics, not properly supervised, not properly administered, certainly can be detrimental to character, just as properly done it can serve as a character builder in many areas. I don't mean to infer that I consider it to be the only method of character building; I'm just saying that it is one and can be useful in that area.
I think we live in a world of hero worship to some degree and that we all have idols. It is the people in the public eye that become the idols, the objects of hero worship. They can be movie people, entertainers, musicians, politicians or they can be athletes.
If intercollegiate athletics are properly administered and conducted, they can be very helpful to the growing youth who are going to be running this country in time to come.
Unlike Coach Wooden, I grew up idolizing a famous NBA player named Walt Frazier. In his book Rockin' Steady, Walt Frazier stated that he always ended his showers with a cold shower because it was good for his skin. As a teenager growing up in San Francisco, my mother would hear me yell from the shower every morning. When she asked me if I was okay I said I was fine, I was just taking my Walt Frazier shower.
My hero worship may have gone a little over the top.
Given my own mistakes, I've always taught youngsters to do what I call take the best and leave the rest when they decide they want to be like their heroes. For example:
Shaquille O'Neal, I will take your rebounding but you'll have to keep your free throws; Kobe Bryant, I will take your competitiveness but you'll have to keep your three-point shot; Steph Curry, I'll take your three-point shot but you have to keep your defense, etc.
Take the best and leave the rest is a valuable lesson to teach our youngsters, especially in today's environment when they are bombarded on instagram with good and bad habits and images of their heroes.
It's a good way to insure our youngsters use hero icons to help build their character, not tear it down.
What are your personal qualities you would list under the category of take the best?
What are the qualities you would list under the category of leave the rest?
Replace your leave the rest qualities with good ones and you will have completed a great self-improvement plan!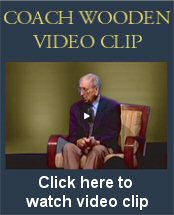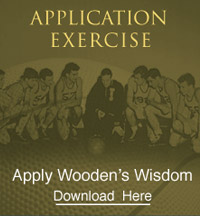 COACH'S
Favorite Poetry
AND PROSE
Some Favorite Thoughts from Coach Wooden's Library

How Do I Love Thee (Sonnet 43)

How do I love thee? Let me count the ways.
I love thee to the depth and breadth and height
My soul can reach, when feeling out of sight
For the ends of being and ideal grace.
I love thee to the level of every day's
Most quiet need, by sun and candle-light.
I love thee freely, as men strive for right;
I love thee purely, as they turn from praise.
I love thee with the passion put to use
In my old griefs, and with my childhood's faith.
I love thee with a love I seemed to lose
With my lost saints. I love thee with the breath,
Smiles, tears, of all my life; and, if God choose,
I shall but love thee better after death.

Elizabeth Browning (1806-1861)