ESTABLISHING CLEAR EXPECTATIONS
Whether it's a sports team, a business or a family, establishing clear expectations is a necessary part of a foundation for success. One of the ways Coach Wooden established clear expectations was through his annual preseason letter to the team, which was sent in July or August prior to the start of practice in October.
The following are some excerpts from the 1970, 71, 72 preseason letters to the team, organized by topic.
1. Coach established the mental approach he expected for the upcoming season.
Here's an excerpt from the 1972 letter:
It is my sincere hope that the 1972-73 UCLA varsity basketball team will be made up of players who love a challenge. Not only will there be a real battle for the top seven or eight playing spots, but the team pressure from the press and public will be far more severe than last year, because now you will be expected to win.
Many of you are partially responsible for this enviable or unenviable position as far as team pressure is concerned because of what you have accomplished in the past. I choose to consider it an enviable position that has been earned and that is a mark of respect. Furthermore, if you are the competitors that I think you are, you will justify the position.
However, I must caution you that you cannot live in the past. The 1971-72 season is now history and we must look forward toward the future. The past cannot change what is to come. The work that you do each and every day is the only true way to improve and prepare yourself for what is to come. You cannot change the past and you can influence the future only by what you do today.
2. Coach defined his role as a leader and the importance of working together. From the 1970 letter:
It has been said that a true leader is always interested in finding the best way to accomplish something rather than having his own way, and I hope that I come under that category. We must work together if we are to measure up to our potential and anything less than that means some degree of failure.
3. Coach pointed out the necessity of supervision and discipline in a group activity. From the 1971 letter:
In every group activity there must be supervision and leadership and a disciplined effort by all or much of our united strength will be dissipated pulling against ourselves. There is much truth in Kipling's Law of the Jungle, where he says "… the strength of the pack is the wolf, but the strength of the wolf is the pack." If you discipline yourself toward team effort under the supervision of the coach, even though you may not always agree with his decisions, much can and will be accomplished. As someone once said, "You will be amazed at how much can be accomplished if no one cares who gets the credit."
How do you establish clear expectations?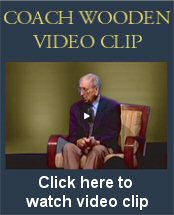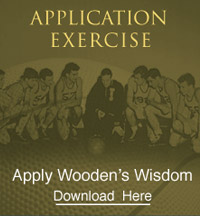 COACH'S
Favorite Poetry
AND PROSE
Some Favorite Thoughts from Coach Wooden's Library

Helen Keller's Creed

I believe that we can live on earth according to the teachings of Jesus, and that the greatest happiness will come to the world when man obeys His commandment, "Love ye one another."

I believe that every question between man and man is a religious question, and that every social wrong is a moral wrong.

I believe that we can live on earth according to the fulfilment of God's will, and that when the will of God is done on earth as it is done in heaven, every man will love his fellow men, and act towards them as he desires they should act towards him. I believe that the welfare of each is bound up in the welfare of all.