THE PLAYER WHO GIVES HIS BEST IS SURE OF SUCCESS, WHILE THE PLAYER WHO GIVES LESS THAN HIS BEST IS A FAILURE
As discussed last week in Issue #253, Coach Wooden did not lecture his players extensively on his Pyramid of Success. Rather than give his players a general lecture on the Pyramid, Coach gave them a specific list of twenty behaviors he called Normal Expectations.
By taking this approach, Coach established clear expectations using the Pyramid of Success as a guide rather than just a general lecture on good behavior.
The Normal Expectations document Coach handed out to his players listed ten desired behaviors and ten never behaviors. The ten never behaviors are listed below in italics. I added the Pyramid of Success quality or qualities the behavior reflects in block lettering.
Never criticize, nag, or razz a teammate. (Cooperation and Team Spirit)
Never miss or be late for any class or appointment. (Reliability)
Never be selfish, jealous, envious, or egotistical. (Team Spirit)>
Never expect favors. (Industriousness)
Never waste time. (Industriousness)
Never alibi or make excuses. (Self-Control)
Never require repeated criticism for the same mistake. (Alertness and Self-Control)
Never lose faith or patience. (Faith and Patience)
Never grandstand, loaf, sulk, or boast. (Team Spirit)
Never have reason to be sorry afterwards. (Industriousness and Self-Control)
Coach concluded this handout with a very direct summary statement. Not coincidentally, he individually underlined each word for emphasis and clarity of importance.
The Player who gives his best is sure of success, while the player who gives less than his best is a failure.
Coach Wooden not only asked his players to abide by these ten suggestions, he made his best effort to do it himself and asked his assistant coaches to do the same. Any team, group or family that could follow these suggestions for proper conduct would improve their chance of maximizing their potential.
Upon close examination, it is a very challenging but worthwhile list.
How does your daily personal behavior match up with these ten suggestions from Coach Wooden?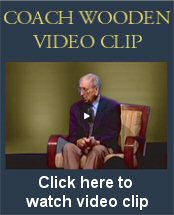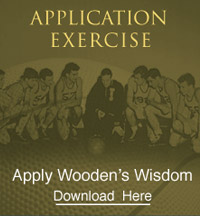 COACH'S
Favorite Poetry
AND PROSE
Go Forth to Life
Go forth to life, O child of earth!
Still mindful of thy heavenly birth;
Thou art not here for ease, or sin,
But manhood's noble crown to win.

Though' passion's fires are in thy soul,
Thy spirit can their flames control;
Though' tempters strong beset thy way,
Thy spirit is more strong than they.

Go on from innocence of youth
To manly purity and truth;
God's angels still are near to save,
And God Himself doth help the brave.

Then forth to life, O child of earth!
Be worthy of thy heavenly birth!
For noble service thou art here;
Thy brothers help, thy God revere!



Samuel Longfellow