QUESTIONS TO ASK YOURSELF
What follows in italics is the second half of a very thought provoking article entitled Need One Know Why written by Coach Wooden in 1976 for Medalist Sports Publications.
I wondered why --
-is it so difficult to realize, at times, that nothing we can do will change the past, and the only way to affect the future is by what we do now.
-is it that it is so much easier to give others blame than it is to give them credit.
-is it that many who are quick to make suggestions find it difficult to make decisions.
-don't we realize that others are certain to listen to us if we first listen to them.
-aren't we more interested in finding the best way rather than having our own way.
-is it so difficult to develop the feeling that those working under our supervision are working with us and not for us.
-is it much easier to be a critic than a model.
-is it so hard to disagree without being disagreeable.
-can't we understand that all progress comes through change even though all change may not be progress.
-is it that we often forget that big things are accomplished only by the perfection of minor details.
-do we dread adversity so much, when facing it is the only way to become stronger.
-can't we motivate ourselves when we know that results come through motivation.
-is it that some seem ashamed to let others know that they pray or read the Bible.
-should it be difficult to give thanks, express thanks, or merely say, "thank you".
-can't we have patience and expect good things to take time.
-it is so easy to be quick to judge when processed of only a few facts.
-is it that it is so easy to see the faults of others and so difficult to see our own.
I certainly do not have the answer for these questions, but I feel that the more I am aware of the fact that they do exist, the better chance I will have to face up to and make them less of a problem.
Coach Wooden used these thoughts to evaluate himself and improve; not to be critical of others. You and I will benefit the most from this article if we do likewise.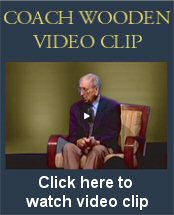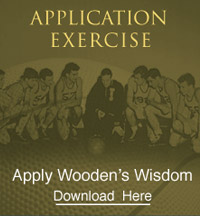 COACH'S
Favorite Poetry
AND PROSE
Song of Life
The Roman statesman Seneca wrote that wherever there is a human being there is an opportunity for a kindness. No selfless act is insignificant.

A traveler on a dusty road
Strewed acorns on the lea;
And one took root and sprouted up,
And grew into a tree.
Love sought its shade at evening time,
To breathe its early vows;
And Age was pleased, in heights of noon,
To bask beneath its boughs.
The dormouse loved its dangling twigs,
The birds sweet music bore,
It stood a glory in its place,
A blessing evermore.

A little spring had lost its way
Amid the grass and fern;
A passing stranger scooped a well
Where weary men might turn.
He walled it in, and hung with care
A ladle on the brink;
He thought not of the deed he did,
But judged that Toil might drink.
He passed again; and lo! the well,
By summer never dried,
Had cooled ten thousand parched tongues,
And saved a life beside.

A nameless man, amid the crowd
That thronged the daily mart,
Let fall a word of hope and love,
Unstudied from the heart.
A whisper of the tumult thrown,
A transitory breath,
It raised a brother from the dust,
It saved a soul from death.

0 germ! 0 fount! 0 word of love!
0 thought at random cast!
Ye were but little at the first,
But mighty at the last.



Charles MacKay