MISTAKES OCCUR WHEN YOUR THINKING IS TAINTED BY EXCESSIVE EMOTION
Coach Wooden emphasized the value of not having excessive emotion. Coach said:
If you lose self-control everything will fail. You cannot function physically or mentally or in any other way unless your emotions are under control. The ability to properly execute the fundamentals is closely related to your physical condition and emotional balance.
I believe that for every artificial peak you create, you also create valleys. When you get too high for anything, emotion takes over and consistency of performance is lost and you will be unduly affected when adversity comes.
Emotionalism—ups and downs in moods, temperamental outbursts—is almost always counterproductive, at times ruinous. If you let your emotions take control, you have lost control. You are vulnerable. As a coach, when emotions such as anger, frustration or overblown pride get in the way of control, the game is in trouble.
Although Coach did not want excessive emotion, he did want great intensity. He taught this to his players by his example. In Coach Wooden's book, The Essential Wooden, with Steve Jamison, Kareem Abdul-Jabbar described his former Coach this way: He was very focused, very intense. Always, always with his emotions under control.
Coach instructed his players to: Keep emotions under control without losing fight or aggressiveness. Coach did not believe patience was simply sitting back and waiting to see what happened and he did not believe having your emotions under control meant being laid back. The Wooden Philosophy is one of doing, not waiting. Coach felt that a leader with intensity was strong and a leader ruled by emotions was weak and vulnerable.
Coach felt he made many errors as a young coach but they became fewer as his emotional control became more disciplined.
This improvement occurred as a result of an unusual approach by Coach: Emotional Conditioning. Coach said you should be: conditioned morally, mentally, emotionally and physically.
Coach once commented that many believed that his players were simply in better physical condition than their opponents. Coach added: They may have been, but they also had tremendous mental and emotional conditioning.
Emotional conditioning is the result of mindful repetition until habits are developed. It's a conditioning program that can help all of us. It is never too late to start, and you can do it without breaking a sweat.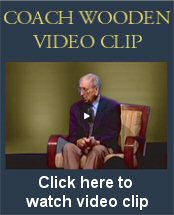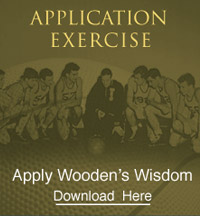 COACH'S
Favorite Poetry
AND PROSE
If you were busy being kind
This verse reminded me of an idea Coach Wooden referred to: Let me give so much time to the improvement of myself that I shall have no time to criticize others.

If you were busy being kind,
Before you knew it you would find
You'd soon forget to think 'twas true
That someone was unkind to you.
If you were busy being glad
And cheering people who seem sad,
Although your heart might ache a bit,
You'd soon forget to notice it.
If you were busy being good,
And doing just the best you could,
You'd not have time to blame some man
Who's doing just the best he can.
If you were busy being true
To what you know you ought to do,
You'd be so busy you'd forget
The blunders of the folks you've met.
If you were busy being right,
You'd find yourself too busy quite
To criticize your brother long,
Because he's busy being wrong.



R. Foreman