PLAYER SELECTION

Three of the five items Coach Wooden described in his book Practical Modern Basketball as determining factors in selecting a squad were:
Determining your best players
Determining the proper position for each player.
Determining the correct combination to make up your strongest unit.
This criteria could be used in assembling any team in business or sports. Coach Wooden reminds us to: Consider team spirit and morale. The five best players seldom make the best team.
This idea was one of the key themes of Jim Collins's bestselling business book: Good to Great, where he cautions us to make sure we get the right people on the right seat on the bus.
Coach also advised it was important to:
Be completely impartial and give every player the chance that he deserves and the opportunity that he earns.
Be constantly alert for the players who play well under pressure and those who cannot take pressure.
Coach said he wanted players who had: Industriousness, Enthusiasm, Cooperation, Team Attitude, Self-Control and Alertness.
Coach Wooden described his decision making process as follows:
Although the final decision for selecting the squad must be the responsibility of the coach and the coach alone, he should use every possible method to aid him in making the correct decision. Do not be reluctant or too proud to seek helpful information from every available source.
One of the sources Coach used was keeping complete statistical charts of every scrimmage and analyzing them in a comparative manner.
In addition to tracking points, rebounds, assists and many other normal basketball statistics, Coach Wooden statistically tracked occurrences of some rather unusual items. Coach statistically tracked the number of times that a player:
Failed to acknowledge a scoring pass from teammate.
Showed displeasure at a teammate.
Showed displeasure at a coach.
Showed displeasure at an official.
Sulked or got his head down.
Lost his temper or self-control in any way.
Failed to hustle on either offense or defense.
Appeared to be "cocky", "fancy" or "grandstanding".
Failed to see a teammate open for a pass.
Failed to keep his hands up around the board.
Forced a shot or dribble.
Failed to keep his man busy on the weak side.
Failed to get proper rebound balance after a shot.
In addition to general character traits, Coach was able to identify very specifically the personal behaviors he wanted on the court and quantify them statistically.
If we can identify and communicate the specific behaviors we expect out of others as Coach Wooden did, instead of just talking about general character traits, we will get better results.
This is also a great thing to do when we coach ourselves.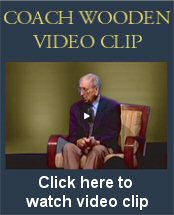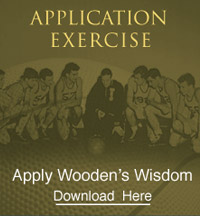 COACH'S
Favorite Poetry
AND PROSE
The Bridge Builder
An old man going a lone highway,
Came, at the evening cold and gray,
To a chasm vast and deep and wide.
Through which was flowing a sullen tide
The old man crossed in the twilight dim,
The sullen stream had no fear for him;
But he turned when safe on the other side
And built a bridge to span the tide.

"Old man," said a fellow pilgrim near,
"You are wasting your strength with building here;
Your journey will end with the ending day,
You never again will pass this way;
You've crossed the chasm, deep and wide,
Why build this bridge at evening tide?"

The builder lifted his old gray head;
"Good friend, in the path I have come," he said,
"There followed after me to-day
A youth whose feet must pass this way.
This chasm that has been as naught to me
To that fair-haired youth may a pitfall be;
He, too, must cross in the twilight dim;
Good friend, I am building this bridge for him!"



Will Allen Dromgoole