SEND THEM HOME HAPPY
If you apply the principle of send them home happy to the end of difficult conversations as well as the end of the day with your team you will improve and strengthen your relationships at home and work.
Send them home happy simply means ending on a positive note. In his book The Essential Wooden, with Steve Jamison, Coach talked about how he applied this principle with his basketball teams:
I believe you should close each day on an optimistic and good note. Never, or rarely, discipline your team or specific individuals at the end of the day. (Occasionally I broke this rule if I wanted them to really get the message on one issue or another. I would send them home with a stern or negative close to the day - let it sink in overnight. I didn't do this often, however).
Never get mad and keep them longer or inflict "punishment." It will leave a bad taste for both you and those under your supervision.
A great supervisor will make the rounds at the beginning of the day to make sure the team gets off to a positive start and make the rounds at the end of the day to make sure team members go home with a smile on their face.
Whether it is a conversation at home or a formal disciplinary meeting at work, it will be more productive if you remember this great advice from Coach Wooden:
You cannot antagonize and influence at the same time.
Learn to disagree without being disagreeable.
Listen if you want to be heard.
What is right is more important than who is right.
End on a positive note.
Write these five items on a card and read them to yourself before you have a difficult conversation. When you listen to both sides of the story or the other person's point of view before you respond, your answer will be better received.
How you say no is more important than how you say yes.
Coach Wooden's star player, Bill Walton, famously reported for practice with long hair that did not comply with the team rules. He informed Coach Wooden that Coach did not have the right to tell him how long he could wear his hair.
After listening Coach responded: Bill you are correct I don't have the right to tell you how long to wear your hair, but I do have the right to decide who will be on the team and we're going to miss you.
That was Coach Wooden, always ending the conversation on a positive note. In this case, Coach did not send Bill home happy….. He sent him to get a haircut happy.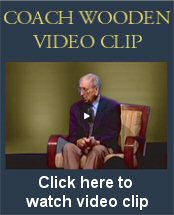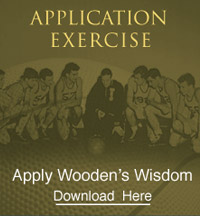 COACH'S
Favorite Poetry
AND PROSE
Friendship
Friendship needs no studied phrases,
Polished face, or winning wiles;
Friendship deals no lavish praises,
Friendship dons no surface smiles.

Friendship follows nature's diction,
Shuns the blandishments of art,
Boldly severs truth from fiction,
Speaks the language of the heart.

Friendship favors no condition,
Scorns a narrow-minded creed,
Lovingly fulfills its mission,
Be it word or be it deed.

Friendship cheers the faint and weary,
Makes the timid spirit brave,
Warns the erring, lights the dreary,
Smooths the passage to the grave.

Friendship-pure, unselfish friendship,
All through life's allotted span,
Nurtures, strengthens, widens, lengthens,
Man's relationship with man.



Anonymous Americas