SOME THOUGHTS TO CONSIDER

From time to time, Coach Wooden gave his teams various handouts. The following in italics is a handout entitled Some Thoughts to Consider. The title reflects Coach Wooden's approach as a master teacher. Coach caused people to think as opposed to telling them what to think. I have added some thoughts in block letters after each point.
Some Thoughts to Consider
An unbeatable five consists of industriousness, enthusiasm, condition (mental, moral, and physical), sound fundamentals and proper team spirit.

For Coach Wooden his unbeatable five did not start with a great center, power forward, small forward and amazing guards. It started with five people who possessed these five character traits. Over the years there were some great players that Coach did not recruit because he wasn't certain they possessed these character traits. What does your unbeatable five start with?

Never expect miracles. It is steady progress that we want and it will come with industry and patience.

Coach Wooden did not give his players any hype or illusions of a secret sauce for a quick fix. His recipe was simple: consistent, well-planned,, hard work, seasoned with the patience to know nothing good happens fast. With technology and media today sometimes creating a desire and expectation of instant gratification, this advice still seems valuable.

Mental, moral, and physical individual and team balance are essential.

Coach believed the most important word in our language is love and the second most important is balance. From a basketball perspective, he was constantly stressing balance: scoring balance, rebounding balance, defensive balance etc. The individuals must maintain physical balance as well as the team as a whole. The key idea he communicated to his players was that this physical balance will only occur if it is preceded by mental and moral balance. Once again, Coach is emphasizing character must come first and optimal physical results may follow. A Coach yelling at his players to get under control would not fit this model.

There is a wonderful mystical law of nature that the three things we crave most in life- -happiness, freedom and peace of mind-- are always attained by giving them to someone else.

Whether it is a basketball team, a family or a business, when team members realize that helping each other is not a sacrifice or just the right thing to do but rather realize helping each other is the most fun they can have, amazing results can occur. The culture of helping each other before we ask for help was the essence of John Wooden's life and I believe the central reason he was the happiest person I ever knew.


Find somebody to help today. You'll have fun.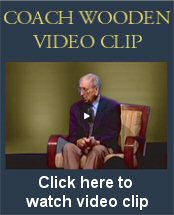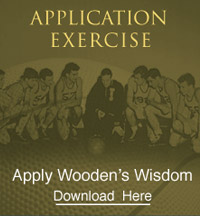 COACH'S
Favorite Poetry
AND PROSE
Work while it is called today, for you know not how much you may be hindered tomorrow. One today is worth two tomorrows; never leave that till tomorrow which you can do today.
Benjamin Franklin

Mr. Meant – To

Mr. Meant-to has a comrade,
And his name is Didn't-do;
Have you ever chanced to meet them?
Did they ever call on you?
These two fellows live together
In the house of Never-win,
And I'm told that it is haunted,
By the ghost of Might-have-been



Anonymous Americas