WHAT DOES MORAL CONDITION HAVE TO DO WITH PHYSICAL CONDITION?
In his book Practical Modern Basketball, Coach Wooden discussed the topic as follows:
The mental and moral conditions of your players are of extreme importance because they will determine their physical condition, if the players are industrious and enthusiastic. A player who is not mentally and morally sound will never be able to become well-conditioned, because he tears down rather than builds.
The mental and moral example set by the coach can have a strong influence on the type of ballplayers he produces, and of even greater importance, on the character of the young men who later leave his guidance and begin to lead others.
The moral condition of any group is greatly influenced by the example of the leader.
A team or business with good moral conditioning will make decisions based on:
Doing the right thing, not getting the best financial results or winning.
Good core values, not just the rules of the game or what we can get away with.
To treat others the way you would like to be treated yourself is an example of a good moral value.
When John Wooden was the coach at UCLA, there was a beautiful new basketball arena constructed on campus (Pauley Pavilion). One of the two requests that he made regarding the construction of the arena was that the locker room of the visiting players be identical to the locker room of the home team. This request was based on a simple moral value: treat others the way you like to be treated yourself.
A team or business supports good moral conditioning by acknowledging good moral decisions of team members, not just celebrating their activities that got the best results.
It is well known that John Wooden and his teams cleaned up their locker room on the road, and took pride in leaving it nicer than the way they found it.
Coach did not read the team newspaper articles or post magazine covers that celebrated their great winning streaks.
He did read out loud to the team and post letters from custodians from other schools that thanked them for leaving the locker room in tip top shape.
Teams and businesses that have good moral conditioning are rewarded with brand-name loyalty, a culture that attracts the best people and an enthusiastic workforce that believes in and are proud of what they're doing and how they do it.
A side effect of good moral conditioning is low stress, because difficult decisions are easy to make.
How do you model good moral behavior? Does your culture demand that decisions are made based on good values, not just good results? How do you celebrate the good moral decisions of team members? How's your stress level?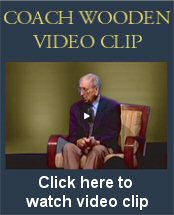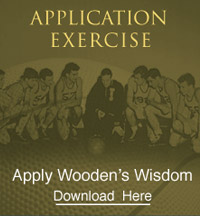 COACH'S FAVORITE POETRY AND PROSE
It Couldn't Be Done
Somebody said that it couldn't be done,
But, he with a chuckle replied
That "maybe it couldn't," but he would be one
Who wouldn't say so till he'd tried.
So he buckled right in with the trace of a grin
On his face. If he worried he hid it.
He started to sing as he tackled the thing
That couldn't be done, and he did it.

Somebody scoffed: "Oh, you'll never do that;
At least no one has done it";
But he took off his coat and he took off his hat,
And the first thing we knew he'd begun it.
With a lift of his chin and a bit of a grin,
Without any doubting or quiddit,
He started to sing as he tackled the thing
That couldn't be done, and he did it.

There are thousands to tell you it cannot be done,
There are thousands to prophesy failure;
There are thousands to point out to you one by one,
The dangers that wait to assail you.
But just buckle it in with a bit of a grin,
Just take off your coat and go to it;
Just start to sing as you tackle the thing
That "couldn't be done," and you'll do it.



Edgar Guest