A GOOD SYSTEM IS BASED ON PRINCIPLE NOT PROCESS
The purpose of a customer service system is not to maintain a customer service system, it is to provide good customer service.
The purpose of a hotel policy manual is not to simply have a hotel policy manual, it is to give guidelines to provide hotel guests with the best experience possible.
It is sometimes easy to get caught up in a certain way of doing things and forget the desired end result or principle we are trying to accomplish.
Poor leadership gets caught up in having their own way. As Coach Wooden said:
The leader is not interested in having his own way, he's interested in finding the best way. He keeps an open mind.
A good example of being flexible in your approach and not getting caught up in just doing things the same way over and over, was the manner in which Coach Wooden approached appointing team captains during his twenty-seven years at UCLA. Coach described it this way:
I didn't believe in captains. I think the voting for captains becomes a popularity contest, so I appointed captains game by game. I would study ahead and there would be certain players that I would want to be captain for one game and certain players to be captain for a different game. I would rotate them.
I was at UCLA for 27 years and three times I selected a captain for the entire season. In my third year at UCLA I had a guard named Eddy Sheldrake. He'd been a starter the two previous seasons and he was the only returning starter that I had and had the qualifications I wanted. He was a leader, he worked hard and set a great example on the floor.
Many years later in 1967, I made Mike Warren the captain for the entire season. He was the only returning starter from the year before and the other four starters were all first-year men, freshman were not eligible, they were all sophomores. He was a leader.
I never did that again until the last year I taught in 1975. I had one returning starter from the year before, Dave Meyers, and he was a leader. He worked hard and set a great example.
Coach Wooden was the Coach at UCLA from 1948 through 1975. In 1950, 1967 and 1975 he abandoned his normal policy for choosing team captains game by game and chose one captain for the entire season because he thought it would be best for the team that year.
He did not get bogged down with one system. He kept his eye on the desired result.
This is consistent with the advice he gave on working with players:
Be completely impartial and show no favoritism, but remember that no two are alike and that each must be treated according to his own personality.
Are you flexible enough to find the best way for the best result?
www.woodenswisdom.com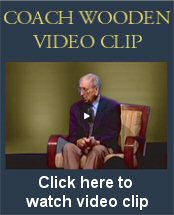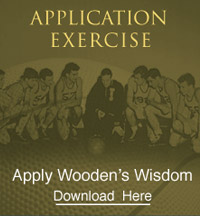 COACH'S FAVORITE POETRY AND PROSE
The things that haven't been done before
The things that haven't been done before,
Those are the things to try;
Columbus dreamed of an unknown shore
At the rim of the far-flung sky,
And his heart was bold and his faith was strong
As he ventured in dangers new,
And he paid no heed to the jeering throng
Or the fears of the doubting crew.

The many will follow the beaten track
With guideposts on the way,
They live and have lived for ages back
With a chart for every day.
Someone has told them it's safe to go
On the road he has traveled o'er,
And all that they ever strive to know
Are the things that were known before.

A few strike out, without map or chart,
Where never a man has been,
From the beaten paths they draw apart
To see what no man has seen.
There are deeds they hunger alone to do;
Though battered and bruised and sore,
They blaze the path for the many, who
Do nothing not done before.

The things that haven't been done before
Are the tasks worth while to-day;
Are you one of the flock that follows, or
Are you one that shall lead the way?
Are you one of the timid souls that quail
At the jeers of a doubting crew,
Or dare you, whether you win or fail,
Strike out for a goal that's new?


Edgar Albert Guest