CULTURE NOT CONTROL
Coach Wooden created a culture in which team members paid attention to detail routinely, yet he was not regarded as a control freak by the team. It ultimately was culture, not constant controls, that drove the behaviors.
Culture is simply the consistent behaviors that a group of people have and are passed on from generation to generation.
A good example of this was the way all of Coach Wooden's UCLA teams kept their dressing rooms clean both at home and on the road, without needing custodians or managers to pick up after them. Here are the steps Coach followed to create culture:
Give the team members a clear, detailed description of what is expected. In his book Practical Modern Basketball, Coach shared what he told the players about his expectations for the dressing room:

Assist the manager and Coaches in leaving our dressing and shower facilities in even better and cleaner condition then when we came.
Be sure that showers are turned off, soap is properly racked, the toilets are flushed, the dressing fixtures are in the proper place and that there is no paper, tape, orange peels or other refuse on the floor.
Be sure you place your towel in the proper container or place.

Hold team members accountable. Coach Wooden checked the locker room himself after every practice and game.
Reinforce the desired behavior. Coach read the team letters he received from custodians at other schools thanking and complimenting them for the condition in which they left the locker room.
The behavior is passed on from generation to generation. I worked for three of the four coaches that immediately followed Coach Wooden at UCLA. The tradition of clean it up/pick it up (the players cleaning up after themselves) continued. I continued the routine with fourteen years of youth basketball teams.
Last year I ran into the Dad of one of my former players from a ten year old team I had coached. The young man is now in high school and his Dad said his son, Griffin, was taking a college level science class at Long Beach State. He continued to tell me that when he goes to pick Griffin up he always comes out ten minutes later than the other students.
When he asked Griffin what was causing the delay, he said: "You know Dad, I always stay after class and make sure everything is picked up and put back where it belongs. Clean it up….pick it up."
Griffin never met John Wooden but he was influenced by him.
Who are you going to influence? How?
www.woodenswisdom.com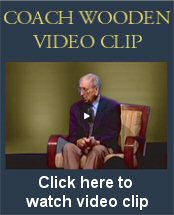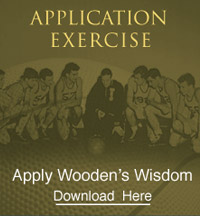 COACH'S FAVORITE POETRY AND PROSE
The Man Who Misses All The Fun
The man who misses all the fun
Is he who says, "It can't be done."
In solemn pride he stands aloof
And greets each venture with reproof.
Had he the power he'd efface
The history of the human race;
We'd have no radio or motor cars,
No street lit by electric stars;
No telegraph nor telephone,
We'd linger in the age of stone.
The world would sleep if things were run
By men who say, "It can't be done."



A Smile
Let others cheer the winning man,
There's one I hold worthwhile;
'Tis he who does the best he can,
Then loses with a smile.
Beaten he is, but not to stay
Down with the rank and file;
That man will win some other day,
Who loses with a smile.