IT TAKES TRUST, FAITH AND PATIENCE TO ACQUIRE PEACE OF MIND
When people are considering a relationship or doing business with you, one of the first things they want to know is whether or not they can trust you.
Trust can mean different things to different people.
In his book Coach Wooden's Pyramid of Success, with Jay Carty, Coach Wooden wrote about four qualities (sincerity, honesty, reliability, integrity) which when combined, I believe, do a great job of defining the personal traits needed to be trustworthy. Here's Coach's thoughts:
Sincerity: We cannot become successful unless we interact with others. Sincerity is the mortar that binds together the blocks of friendship, loyalty, cooperation and team spirit.
Sincerity may not make a friend, but it will keep one. It often takes a while to be validated, but once a person knows that our word, character and steadfastness have withstood the test of life, a firm friendship can be established and maintained.
Honesty: Honesty is doing the things that we know are right and not giving in to the temptation to do the things that we know are wrong. Honesty must occur at all times, in both thought and action. Honest people stay on the narrow way, regardless of the consequences.
A dishonest act is an attempt to deceive someone. It is possible to be so deceptive that we even deceive ourselves. We do this when we want to justify a lie because of circumstances or as payback when someone has been dishonest with us. Dishonesty – no matter the reason – destroys our credibility, ruins our reputation and costs us our self-respect.
Reliability: When we are reliable, others know that they can depend on us. They know that we will make the effort to do our best, whatever the situation might be. Reliability earns the respect of those around us.
Capability doesn't have anything to do with reliability. Some people don't have as much capability as others have, but they make up for their lack by being reliable.
Integrity: Integrity in its simplest form is purity of intention. It's keeping a clean conscience.
Purity of intention is really a reflection of the heart. The heart of a person with integrity always wants to do what's right, once he or she is sure what "right" is. When we have integrity, we are not going to do anything that will be demeaning to anybody else.
People with integrity are, as Coach said: genuinely concerned about the betterment of others.
To evaluate a relationship ask yourself if the other person would describe you as sincere, honest, reliable and full of integrity.
Who are you going to influence? How?
www.woodenswisdom.com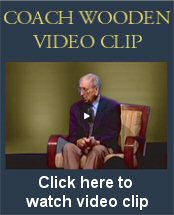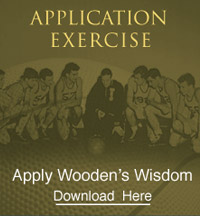 COACH'S FAVORITE POETRY AND PROSE
CARRY ON!
It's easy to fight when everything's right,
And you're mad with thrill and the glory;
It's easy to cheer when victory's near,
And wallow in fields that are gory.
It's a different song when everything's wrong,
When you're feeling infernally mortal;
When it's ten against one, and hope there is none,
Buck up, little soldier, and chortle:

Carry on! Carry on!
There isn't much punch in your blow.
You are glaring and staring and hitting out blind;
You are muddy and bloody, but never you mind.
Carry on! Carry on!
You haven't the ghost of a show.
It's looking like death, but while you've a breath,
Carry on, my son! Carry on!

And so in the strife of the battle of life
It's easy to fight when you're winning;
It's easy to slave, and starve and be brave,
When the dawn of success is beginning.
But the man who can meet despair and defeat
With a cheer, there's the man of God's choosing;
The man who can fight to Heaven's own height
Is the man who can fight when he's losing.

Carry on! Carry on!
Thing never were looming so black.
But show that you haven't a cowardly streak,
And though you're unlucky you never are weak.
Carry on! Carry on!
Brace up for another attack.
It's looking like hell, but – you never can tell.
Carry on, old man! Carry on!

There are some who drift out in the desert of doubt
And some who in brutishness wallow;
There are others, I know, who in piety go
Because of a Heaven to follow.
But to labor with zest, and to give of your best,
For the sweetness and joy of the giving;
To help folks along with a hand and a song;
Why, there's the real sunshine of living.

Carry on! Carry on!
Fight the good fight and true;
Believe in your mission, greet life with a cheer;
There's big work to do, and that's why you are here.
Carry on! Carry on!
Let the world be the better for you;
And at last when you die, let this be your cry!
Carry on, my soul! Carry on!


Robert Service