THE WORST THING ABOUT NEW BOOKS IS THEY KEEP US FROM READING THE OLD ONES
This favorite quote of Coach Wooden's was originated by Joseph Joubert (1754 - 1824) who was a
French moralist
and
essayist
, remembered today largely for his
Pensées
(Thoughts), which was published posthumously.
Coach Wooden had a fantastic home library with thousands of books. When asked once how many he had read, he said about 75%.
This often used quote by Coach is typical evidence…..how many other folks would have read or known of Joseph Joubert?
On the occasions when I am asked how Coach Wooden got to be so smart, I reply: He read a lot; he wasn't home watching TV all night.
In the Pat Williams book Coach Wooden, the origins of Coach's love of reading are described:
Joshua Hugh Wooden was the one who first instilled a love for poetry and great literature in young Johnny Wooden.
In his own commentary, Coach observed, "Poetry, biographies, and all the other great books will greatly enrich your life. There are so many that are so good, and they will all be available to you. The poetry dad read to us when we were children instilled a love of reading. . . . Drink deeply from those great books of your own choosing and you will enrich yourself."
"We had no electricity, plumbing or conveniences," Coach Wooden recalled, "and for entertainment, dad read books to us in the evening by the light of the coal-oil lamp.
Sometimes we'd hear Lord Alfred Tennyson's Idylls of the King, Edgar Allan Poe's 'TheRaven,' or even William Shakespeare. Before we were sent off to bed, he'd always include a verse or two from the Good Book."
One of my wife's prized possessions is a copy of Lord Alfred Tennyson's Idylls of the King she was given by her grandfather (Coach Wooden).
The book is old and tattered and full of notes Coach made and other passages he underlined.
On the top of the first page of the introduction Coach wrote out two passages he thought were valuable from the Coming of Arthur:
Doubt which judges by the senses is matched against faith which judges by the spirit.
The birth of a spiritual man who rules by force of character and not by right of birth.
These two ideas reflect Coach's approach to others: always trust first; and in coaching: be a leader, not a dictator.
I think I better go read some old books and see if I can get a little wiser.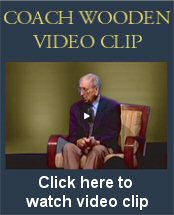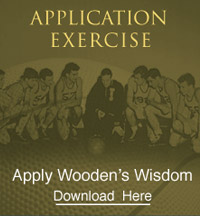 COACH'S
Favorite Poetry
AND PROSE


Good Books
Good Books, Good Rhymes,
Good Stories, Good Times,
Good Beginnings, Good Ends,
Good Tragic. Good Trends.
Good Fiction, Good Facts,
Good Adventures, Good Acts,
Good Characters, Good Thoughts,
Good Sense Of Humor, Good Soughts.
These are Our Good Friends,
Which Have No Demand, No Complaints.
It Is Read By All Over
From President To Cooks.
Really It Is Our
GOOD BOOKS………
KAUSHAL SABOO