WHAT'S IN YOUR POCKET?
During an interview at Western Michigan in 2005, Coach Wooden was asked to discuss the items he kept in his pocket. It wasn't Samuel Jackson asking "What's in your wallet?". As Coach emptied his pockets, it was a pathway to what he kept in his heart, not in his bank account. Here's the items:
1. A medal for teachers inscribed: God bless our teachers for they take a hand, open a mind and touch the heart.
2. Coach took out the next item and continued: "I've got something from my favorite person that's lived in my lifetime: Mother Teresa. On the back of this it says: I see God in every human being. She also said You can't live a perfect day without doing something for another without any thought of return; she also said: Forgiveness sets you free and A life not lived for others is not a life."
3. Coach took another item out and continued: "The third thing I pulled out is this cross. It has the alpha and the omega, the beginning and the end, and a monad in the heart. It was given to me by Reverend Frankie Davidson in South Bend, Indiana in 1942 before I enlisted in the service, and I've carried it ever since. I held it in my hand during games. Nobody knew it. The players knew I carried a rolled up program but not the cross. At times of stress, just having it gave me some serenity which is very good."
4. A continued inspection of Coach's pocket would have revealed an Abraham Lincoln coin, a Mahatma Gandhi coin and a second Mother Theresa coin.
If the inspection continued into Coach Wooden's wallet you would have found a little pamphlet titled: "Where to look in the Bible" Coach said: It points out specific references that will be of help in time of need-when desiring inward peace, when things look blue, when tempted to do wrong and so forth.
You would also find in his wallet the Seven Things to Do he was given by his father that started with: Be true to yourself and Help others and ended with: Pray for guidance and count and give thanks for your blessings every day.
In his later years, Coach often opted to wear a bolo tie he been given after visiting an Indian Reservation instead of a neck tie. He did it to show his love and respect for our Native Americans.
Whether it was in his pocket, in his wallet or around his neck, Coach had one message: The most important word in our language is love.
What's in your pocket?
www.woodenswisdom.com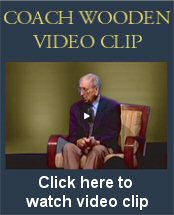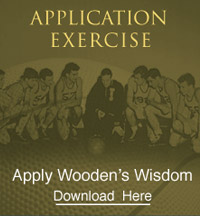 COACH'S FAVORITE POETRY AND PROSE
Will
There is no chance, no destiny, no fate,
Can circumvent, or hinder, or control
The firm resolve of a determined soul.
Gifts count for nothing, will alone is great,
All things give way before it, soon or late.
What obstacle can stay the mighty force
Of the sea-seeking river in its course,
Or cause the ascending orb of day to wait?
Each will-born soul must win what it deserves.
Let the fool prate of luck. The fortunate
Is he whose earnest purpose never swerves,
Whose slightest action or inaction, serves
The one great aim.
Why, even death stands still
And waits an hour, sometimes, for such a will.


Ella Wheeler Wilcox (1769-1819)