KINDNESS IS A LANGUAGE WHICH THE BLIND CAN SEE AND THE DEAF CAN HEAR
This Mark Twain quote was a favorite of Coach Wooden's. It was on one of his favorite topics: kindness. Coach Wooden collected quotes he found helpful and shared them. Here are a few others he chose on the subject of kindness:
The happiest moments in life come from making someone else happy.
Be more concerned with loving than being loved, giving than receiving, being a friend than having a friend.
You cannot live a perfect day without doing something for someone without a thought of repayment.
We can do more good by being good than any other way.
In 1958, long before Coach Wooden had won any national championships or become famous, he shared this message with a group of students he spoke to at UCLA:
"My father gave me a quotation which I have carried on the back of this card listing the Adopted Creed. The quotation says: Four things a man must learn to do If he would make his life more true: To think without confusion clearly, To love his fellow-man sincerely, To act from honest motives purely, To trust in God and Heaven securely.
If all of us could mold our lives after this quotation and the mentioned creed, think what the world would be! Are you familiar with the poem by Leigh Hunt, Abou Ben Adhem? He was blessed with the love of God because he loved his fellow man. Isn't that what any of us really need to do, have a genuine love for our fellow man?
Too many of us are concerned with building a reputation or obtaining material possessions. We should be interested in building character within ourselves. Your reputation is merely what others consider you to be, but your character is what you know yourself to be. Material possessions can't bring contentment, peace of mind, happiness or true success."
In 1983,twenty five years and Ten National Championships later, Coach Wooden wrote a magazine article for The Fellowship of Christian Athletes publication Sharing The Victory entitled My First Seven Points, which described the card his father had given him upon graduation from grade school with seven points on it. In the article he described his father's third point this way:
"3. Help Others. Jesus said, "It is more blessed to give than to receive." We say the words but so many times don't really believe them. They're still true. You can never acquire happiness, freedom and peace without giving of yourself to someone else."
Fame and fortune did not change Coach Wooden's message or his thinking. He simply wanted to be a person who was considerate of others. He was more interested in being a good person than a good coach.
What are you most interested in?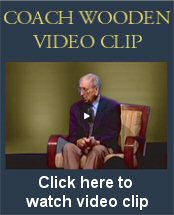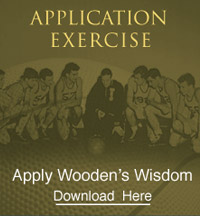 COACH'S FAVORITE POETRY AND PROSE
The Choir Invisible
Oh, may I join the choir invisible
Of those immortal dead who live again
In minds made better by their presence; live
In pulses stirred to generosity,
In deeds of daring rectitude, in scorn
For miserable aims that end with self,
In thoughts sublime that pierce the night like stars,
And with their mild persistence urge men's search
To vaster issues. So to live is heaven:
To make undying music in the world,
Breathing a beauteous order that controls
With growing sway the growing life of man.
So we inherit that sweet purity
For which we struggled, failed, and agonized
With widening retrospect that bred despair.
Rebellious flesh that would not be subdued,
A vicious parent shaming still its child,
Poor anxious penitence, is quick dissolved;
Its discords, quenched by meeting harmonies,
Die in the large and charitable air,
And all our rarer, better, truer self
That sobbed religiously in yearning song,
That watched to ease the burden of the world,
Laboriously tracing what must be,
And what may yet be better, -- saw within
A worthier image for the sanctuary,
And shaped it forth before the multitude,
Divinely human, raising worship so
To higher reverence more mixed with love, --
That better self shall live till human Time
Shall fold its eyelids, and the human sky
Be gathered like a scroll within the tomb
Unread forever. This is life to come, --
Which martyred men have made more glorious
For us who strive to follow. May I reach
That purest heaven, -- be to other souls
The cup of strength in some great agony,
Enkindle generous ardor, feed pure love,
Beget the smiles that have no cruelty,
Be the sweet presence of a good diffused,
And in diffusion ever more intense!
So shall I join the choir invisible
Whose music is the gladness of the world.


George Eliot (1819-1880)