OTHERS TOO, HAVE BRAINS
Coach Wooden used this "motto" when he defined important aspects of a coach as a teacher:
Coaches must continuously be exploring for ways to improve themselves in order that they may improve others, and welcome every person and everything that may be helpful to them. As has been said, they must remember, "Others, too, have brains."
Coach was committed to proactively and independently seeking knowledge. He did not just look for new information when he had a problem that needed to be solved. His quest for new knowledge was a disciplined routine habit he lived by the same way a competitive distance runner runs a certain number of miles every day when in training.
John Wooden kept his brain in training every day of his life. Here are a few examples of how he did that:
When coaching at UCLA, he took psychology classes to learn how to communicate better.
He attended practices of other coaches, including coaches of other sports. He learned time management by attending Frank Leahy's Notre Dame Football practices.
He reached out and asked for help from other coaches. As a player, he interviewed opposing coaches on their techniques. While coaching at UCLA he asked for and received help on his defensive strategies from his rival Pete Newell, who was the head coach at Cal Berkley.
He attended as many coaching clinics as he could. When he was a guest speaker at a coaching clinic he would arrive before it started and stay until after it ended, sitting in the front row taking notes while listening to all of the other guest speakers.
He researched a different basketball topic each year by reading all the material he could find on it and sending a survey to the top performers in that category.
He read voraciously. Many of the hundreds of books in his personal library had key passages underlined in pencil and notes written in the column.
With the internet your resources to learn are unlimited.
Overdrive is a free App you can put on your phone or computer to download audio or E Books for free from any library system for which you have a card.
Project Gutenberg
https://www.gutenberg.org/
offers over 53,000 free eBooks. The table of contents from
Wisdom of the Ages
by Wayne Dyer and
50 Self-Help Classics
by Tom Butler-Bowdon will give you a great starting point on whom to study.
Podcasts are fantastic. Ted Talks and How I Built This are a just a few examples. YouTube is awesome. Anson Dorrance: What Drives Winning is just one example.
You can spend your time learning from your mistakes or as Coach did recognize: Others, too, have brains and grow from your well thought out intelligent experiences.
John Wooden was never interested in demonstrating to others how much he knew. He was keenly interested in what they knew.
What is your game plan for personal growth? The resources are free and waiting for you!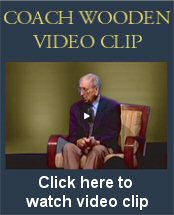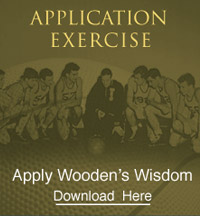 COACH'S FAVORITE POETRY AND PROSE
THE CHEAT
I cheated a good friend yesterday,
Kept what was his, and went my way,
Wronged him by silence-for in haste
I let a glad thought go to waste.

I had a word of cheer to speak,
To strengthen him when he grew weak,
To send him smiling on his way -
But what I thought I didn't say.

He would have richer been to know
That deed of his had pleased me so,
But oh, I failed to let him see
How much his conquest meant to me.

I cheated him of words of praise
Which would have cheered his troubled days;
In this a faithful friend I wronged,
By keeping what to him belonged.

The praise was his by right to hear,
To him belonged my word of cheer;
In silence, though, from him I turned
And cheated him of what he'd earned.

Edgar Albert Guest