TIME LOST IS TIME LOST. IT'S GONE FOREVER.
Jack Nicklaus is widely regarded as the greatest golfer of all time, winning a record 18 career major championships, while producing 19 second-place and 9 third-place finishes, over a span of 25 years.
Nicklaus kept this John Wooden quote on his refrigerator: If you do not have the time to do it right, when will you have time to do it over?
He read it before he headed for the practice range to remind himself to not waste time at practice.
Coach Wooden commented on the value of time this way:
Time lost is time lost. It's gone forever. Some people tell themselves that they will work twice as hard tomorrow to make up for what they did not do today. People should always do their best. If they can work twice as hard tomorrow, then they should have also worked twice as hard today. That would have been their best. Catching up leaves no room for them to do their best tomorrow. People with the philosophy of putting off and then working twice as hard cheat themselves.
Coach Wooden didn't waste time with his communication.
Ronald Gallimore and Roland Tharp (two UCLA psychologists) attended 15 practices during the 1975 season and where they recorded and codified 2,326 Wooden teaching acts during thirty hours of practice.
They observed the following:
There were no lectures, no extended harangues. He rarely spoke longer than 20 seconds. His demonstrations were rarely longer than five seconds but of such clarity they left an imagery in memory much like a textbook sketch.
What he said to individuals was brief, sharply etched and rarely interrupted the flow of the action. It was always instructive.
Coach liked his communications to be between 5 and 10 seconds.
Coach commented on how keeping his instructional statements brief was part of his instructional philosophy and approach:
John Bunn, one of the very brightest, most erudite coaches I've ever known, made the statement one time, "Give a coach the opportunity to take fifteen minutes to say what he should in fifteen seconds—he will!" I learned to be concise and quick and didn't string things out.
When a manager has a meeting with ten people and wastes five minutes talking unnecessarily he/she is actually wasting fifty five minutes of the company's time (11 people times 5 minutes each).
Are you clear and concise in your communication? Bloviating or being effective?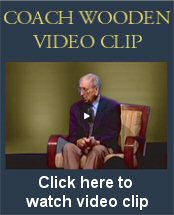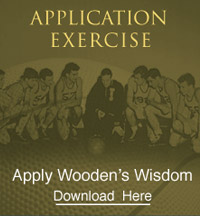 COACH'S FAVORITE POETRY AND PROSE
See It Through
When you're up against a trouble,
Meet it squarely, face to face;
Lift your chin and set your shoulders,
Plant your feet and take a brace.
When it's vain to try to dodge it,
Do the best that you can do;
You may fail, but you may conquer,
See it through!

Black may be the clouds about you
And your future may seem grim,
But don't let your nerve desert you;
Keep yourself in fighting trim.
If the worst is bound to happen,
Spite of all that you can do,
Running from it will not save you,
See it through!

Even hope may seem but futile,
When with troubles you're beset,
But remember you are facing
Just what other men have met.
You may fail, but fall still fighting;
Don't give up, whate'er you do;
Eyes front, head high to the finish.
See it through!

Edgar Albert Guest (1881 to 1959)