WHAT'S THE TEAM'S LIMIT?
How good can a team be? Men's college division one basketball began playing for a national championship in 1939. As of 2017, six different schools have won back to back championships. No school has won more than two in a row.
There is one exception to this limit. From 1967 to 1973 John Wooden's UCLA teams won seven consecutive national championships.
In his book The Essential Wooden, with Steve Jamison, Coach Wooden discussed his approach:
Dream big, but not too big. I set attainable goals for those under my supervision – the team.
I was introduced at a seminar by a team manager of a large corporation: "Two years ago our productivity rating was 84%," he announced. "I am delighted to report this year's rating is 100%." The news was greeted with wild applause and cheering. The team had every right to be proud. The manager then asked enthusiastically: "Are we going to do even better next year?" The applause fizzled. "How do we get results better than 100%?" the team seem to be thinking. Well you don't.
That's one of the reasons my stated goals at UCLA were not attached to the percentages of winning and losing. At the conclusion of a 30-0 season -"perfect"- how do I ask the team to improve on it? The team couldn't improve on the record, but members could always improve on the quality of effort. Absolutely always. Regardless of the statistics, percentages, or record-30-0 or 0-30-my goal was to step up the quality of our effort, preparation, and execution and to strive to get closer and closer to full competency without worrying about the score.
Former player, the late great Dave Meyers, described Coach Wooden's approach:
Coach Wooden never limited himself by thinking about what's possible. He focused on the "right now" and was more involved with the better than the best. Let's get better, not worried about if it makes us best.
Coach Wooden set no limit on the performance level of his teams because he knew they could always improve and he insisted that they did.
Are you limiting yourself or your team?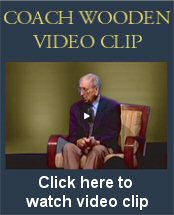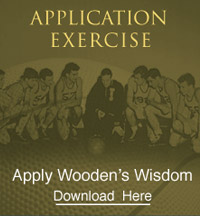 COACH'S FAVORITE POETRY AND PROSE
What We Can Be
We cannot all be a person of fame,
We cannot all be a person of wealth,
We cannot all be known by name,
We cannot all have perfect health,
We cannot all be a person of power,
We cannot all be of one mind;
But we can all be, every hour,
A hopeful, cheerful person, and kind.

Edgar Albert Guest (1881 to 1959)