JOHN WOODEN AND BILL GATES
In 1995 Bill Gates and John Wooden were seated close to each other while attending the National College Basketball Championship game in Seattle between UCLA and Arkansas. A few days following the tournament Mr. Gates asked Coach Wooden to spend some time with his team discussing the Pyramid of Success. At the end of the meetings Mr. Gates asked Coach if he would mind autographing some basketballs. Coach said that would be fine.
Once back in his hotel room Coach Wooden received a visit from a Gates assistant with a couple luggage racks of basketballs to be signed. The Gates assistant politely asked Coach how much he charged to sign basketballs because Mr. Gates wanted to give him a check for the appropriate amount.
Coach advised that he did not charge a fee for autographing basketballs and that he would happy to sign the balls. After the signed basketballs had been picked up Mr. Gates assistant returned and said that Mr. Gates wanted to know if Coach Wooden had a favorite charity. Coach said he supported Juvenile Diabetes among others.
Later that day the assistant returned and gave Coach a check for Juvenile Diabetes.
Coach of course would not divulge the amount of the check so I asked "What did you say when you saw the check?"
Coach smiled and replied: "I asked the gentleman if Mr. Gates had any more basketballs he wanted signed."
The story has humor to it but it also illustrates how two good people contributed their efforts in different ways to help others. Bill Gates contributed money (the check) and Coach Wooden contributed his time (signing the basketballs).
Coach Wooden liked the famous quote from 17th century preacher John Bunyon: "A man there was and they called him mad, the more he gave, the more he had."
When you give time or money to help others you will not get more time or money in return. You will get more happiness in your heart. All of us might not always have money to help others but perhaps we can find the time.
Here are some great ideas on the value of giving:
"There's no need to be the richest person in the cemetery. You can't do any business from there." – Colonel Sanders
"The person that has no money is poor. The person that has nothing but money is poorer still." - Billy Sunday
"We are rich only through what we give: and poor only through what we refuse and keep." – Anne Swetchine
Do you have any time or money available to help others?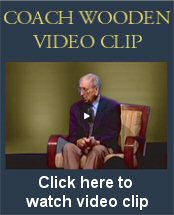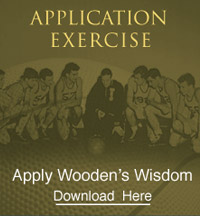 COACH'S FAVORITE POETRY AND PROSE
Gossip
A Fellow can't help hearing
Hateful things about another,
But a fellow can be careful
Not to tell them to his brother.

Sit and listen, if you want to,
When the spiteful things are said,
But don't pass on the scandal,
Keep a still tongue in your head.

Spread no little tale of evil,
Whether right or whether wrong,
You may barken unto gossip,
But don't send the tale along.

Edgar Albert Guest (1881 to 1959)