ARE YOU A LOSER IF YOU QUIT?
Vince Lombardi liked the phrase "A winner never quits and a quitter never wins."
At the top of his original Pyramid of Success Coach Wooden defined Competitive Greatness as: "When the going gets tough, the tough get going. Be at your best when your best is needed. Real love of a hard battle."
As a Coach, Employer or Leader sometimes we might in part think of somebody who leaves our team or organization as a quitter.
Coach Wooden described Competitive Greatness (a never give up attitude) as a result of other important qualities.
To maximize our chances of having players or employees who won't quit (are Competitively Great) we should provide an environment where team members:
Enjoy what they do (if they don't enjoy their work they may be on the wrong team or not in the right job) and feel appreciated (Enthusiasm).
Have a sense of camaraderie with their team mates (Friendship)
Believe in the cause or the company they are working for. (Loyalty)
Feel as if they are part of the process and their input is listened to. (Cooperation)
Respect and trust those in leadership positions. (Liking them as well is great, but not always possible).
See an opportunity to achieve their personal goals as well as the team's goals.
Coach Wooden thought of team members as part of his family and took it to heart when they left or had to be eliminated from the team. He put it this way:
"It's like your own family, your own children. Because if it's your own, it hurts personally. You wonder if there's anything I could have done or should have done? You always think of that."
As a leader it is beneficial to be introspective about what you or your company could have done differently so a team member wouldn't have quit. You can't make it right for everybody but you will not improve your team environment if you simply label the quitter as a loser and leave it at that.
Once you have evaluated the situation Coach Wooden's advice was simple: "You just have to go ahead. You can't whine or complain about it, just play the cards that are dealt you and do the best with what you have."
What's your team environment check list to inspire perseverance in your team members?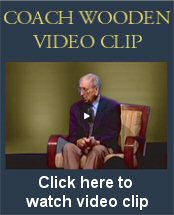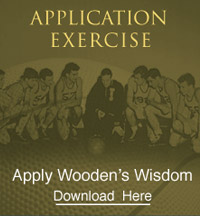 COACH'S FAVORITE POETRY AND PROSE
Persevere
The fisher who draws in his net too soon,
Won't have any fish to sell;
The child who shuts up his book too soon,
Won't learn any lessons well.

If you would have your learning stay,
Be patient - don't learn too fast;
The man who travels a mile each day,
May get round the world at last.

McGuffrey's Reader
Try, Try Again
Tis is a lesson you should heed---
Try, try again;
If at first you don't succeed,
Try, try again;
Then your courage should appear;
For if you will persevere,
You will conquer, never fear,
Try, try again.

Anonymous
Perseverance
We must not hope to be mowers,
And to gather the ripe gold ears,
Unless we have first been sowers
And watered the furrows with tears.

It is not just as we take it,
This mystical world of ours,
Life's field will yield as we make it
A harvest of thorns or of flowers.

Johann Wolfgang von Goethe (1749-1832)