BUILD BRIDGES, DON'T BURN THEM
If you don't get the promotion you think you deserved, don't get bitter. Shake the bosses hand, keep smiling and keep working. If you don't get the job you wanted, don't get angry. Thank the company for the interview and ask them to keep you in mind. If you get cut from the team, thank the Coach for the tryout; don't walk away sulking. If your team loses a close game on the road on a bad call, don't whine and trash the locker room. Make no excuses and clean the locker room up.
Build Bridges Don't Burn Them.
March 21, 1964 in Kansas City, Missouri looked like it was going to be a great night for Fred Slaughter, the senior starting center of John Wooden's UCLA Bruins. Fred was from nearby Topeka, Kansas (65 miles away) and was going to play against Duke in the national championship game. Fred's relatives and friends were there and would finally get to see their hometown hero play in person.
The ever reliable Slaughter had started every game that year and had averaged 8 points and 8 rebounds a game for the balanced Bruins in the NCAA playoffs so far.
Things did not so well for Fred that night. Early in the first half, Fred was struggling. Coach Wooden took him out and put in seldom used sophomore center Doug McIntosh. For the first time that season Fred did not start the second half. McIntosh played the game of his life (8 points and 11 rebounds). UCLA won its first national championship.
Fred never got back in the game.
Coach Wooden described his own feelings after the game this way:
As I turned away from the post-game press conference and headed down that long corridor in Kansas City toward the dressing room, my feet and spirits dragged. For while I looked forward to congratulating the team on their victory, my thoughts were also on Fred Slaughter. What was he feeling at this moment?
Then Fred Slaughter, as he would throughout his life, showed how to be a bridge builder not a bridge burner. Coach Wooden described it this way:
Pushing open the dressing room door, I ran right into Fred. He had evidently been waiting for me. "Coach," he said, "before someone gets the wrong impression, I want you to know that I understand. You had to leave Doug in there because he played so well, and I didn't. I wanted to play in the worst way, but I do understand, and if anyone says I was upset, it's not true. Disappointed, yes, but upset no, and I was very happy for Doug."
The bridge builder Fred Slaughter went on to become a Dean at the UCLA Law School, a highly successful attorney and member of the UCLA Hall of Fame. Fred and John Wooden were friends for the next 46 years. Fred's mentorship and friendship was valued and esteemed by four generations of UCLA players and countless others. The bridge Fred built was strong.
Are you building bridges or burning them?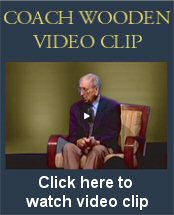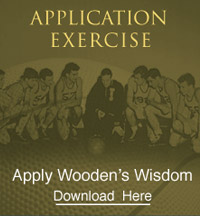 COACH'S FAVORITE POETRY AND PROSE
The Arrow and the Song
I shot an arrow into the air,
It fell to earth, I knew not where;
For, so swiftly it flew, the sight
Could not follow it in its flight.

I breathed a song into the air,
It fell to earth, I knew not where;
For who has sight so keen and strong,
That it can follow the flight of song?

Long, long afterward, in an oak
I found the arrow, still unbroke;
And the song, from beginning to end,
I found again in the heart of a friend.

Henry Wadsworth Longfellow (1807-1882)