THERE IS SO MUCH GOOD IN THE WORST OF US, AND SO MUCH BAD IN THE BEST OF US, THERE CAN HARDLY BE ROOM FOR ANY OF US TO TALK ABOUT THE REST OF US.
The quote: "There is so much good in the worst of us, and so much bad in the best of us, there can hardly be room for any of us to talk about the rest of us." from James Truslow Adams, was a favorite of Coach Wooden's.
It represented a key principle Coach learned from his father, Joshua. In his book with Don Yaeger, A Game Plan for Life, Coach discussed his father's influence:
My father refused to speak an unkind word against anyone. It was amazing; but growing up under such a strong example of that; I found that it inherently became part of my own character.
Coach applied the principle of not speaking negatively about others in a direct way with regards to how he coached his basketball teams. Coach had only three rules for his teams that when broken could result in a team member being asked to leave practice. One of the three was: "Never criticize a team mate."
The idea is not that you will never have anything negative to say about anything or that you will never disagree. It is directed at eliminating negative comments about other people; destructive, useless, energy draining gossip.
A great rule for the workplace is: "We don't complain to teammates about other teammates, things they can't fix or situations they can't change."
Napoleon Hill put it this way: "If you have something to say to somebody or about somebody, think if it will help them or hurt them. If it will help them say it; if it will hurt them, don't."
Acting this way starts with thinking about others in a positive way, looking for the best in them and not being judgmental in our thoughts.
When asked about her thoughts on helping the poor, Mother Teresa replied: "I see Jesus in every human being. I say to myself, this is hungry Jesus, I must feed him. This is sick Jesus. This one has leprosy or gangrene; I must wash him and tend to him."
Let's teach our young people the positive approach with our example. Eleanor Roosevelt said: "Great minds discuss ideas, average minds discuss events, shallow minds discuss people."
Who do you see in other human beings? What do you discuss? Be careful. You are setting an example for someone.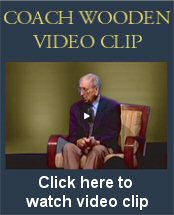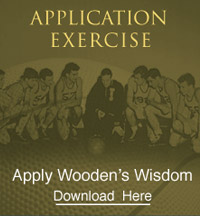 COACH'S FAVORITE POETRY AND PROSE
A NAME IN THE SAND
Alone I walked the ocean strand;
A pearly shell was in my hand:
I stooped and wrote upon the sand
My name—the year—the day.
As onward from the spot I passed,
One lingering look behind I cast;
A wave came rolling high and fast,
And washed my lines away.

And so, methought, 't will shortly be
With every mark on earth from me:
A wave of dark oblivion's sea
Will sweep across the place
Where I have trod the sandy shore
Of time, and been, to be no more,
Of me—my day—the name I bore,
To leave nor track nor trace.

And yet, with Him who counts the sands
And holds the waters in his hands,
I know a lasting record stands
Inscribed against my name,
Of all this mortal part has wrought,
Of all this thinking soul has thought,
And from these fleeting moments caught
For glory or for shame.

Hannah Flagg Gould (1789 - 1865)