COOPERATION + COLLABORATION = INNOVATION (Red Auerbach)
Red Auerbach coached professional basketball for twenty years (1946-1966). In his eleventh season his Boston Celtics won the NBA championship. Over the next nine years they won eight more NBA Titles, including eight in a row. No other team in NBA history has won more than three championships consecutively.
Red grew up in Williamsburg, Brooklyn. He was one of the four children of Marie and Hyman Auerbach. Hyman was a Russian immigrant. The couple owned a delicatessen store and later went into the dry-cleaning business.
In 1941, Auerbach began coaching basketball at the St. Albans School and Roosevelt High School in Washington, D.C. Two years later, he joined the US Navy for three years, coaching the Navy basketball team in Norfolk. There, he caught the eye of Washington millionaire Mike Uline, who hired him to coach the Washington Capitals in the newly founded Basketball Association of America.
To his players, Red was the embodiment of friendship, loyalty, cooperation and humility.
In his book with John Feinstein Let Me Tell You a Story: A Lifetime in the Game, Red discussed his approach:
"Players are people, not horses. You don't handle them. You work with them, you coach them, you teach them, and, maybe most important, you listen to them. The best players are smart people and a good coach will learn from them. Sometimes when guys came to me with ideas, I knew they couldn't possibly work. But I didn't just say no, because they would see that as a sign that I didn't respect them."
In his book Red and Me, Bill Russell talked about Red designing a play for him in practice. Red, of course, asked Russell what he would like to do. Russell continues the story:
I said, "Well, I would like to have guys cutting off me." Red thought it over and said, "Okay, let's get Russ some cutters." We set up the play with a forward cutting right by me on one side and a guard following behind him on my other side in an X pattern, like scissors. Red said, "Okay, Russ, where do you prefer the first cutter go through?" Again, a collaboration: not giving an order, just asking a question and leaving it to us to decide.
A quality I admired in Red was that he knew how to listen. Red created the environment for open collaboration. By constantly engaging our creativity, he stimulated a tangible spirit, pride, and team chemistry. It was exhilarating to be part of that flow.
The collaboration was possible because Red gave the players the respect, loyalty and friendship that fostered their cooperation.
COOPERATION + COLLABORATION = INNOVATION
Russell described his coach this way:
"If I told him something that was important to me, let's say, as a player, he would not only listen carefully but also absorb it and then act on it, to somehow help me or the team.
In fact, he was the best listener I have ever encountered. It was the secret of his success: great ears."
The Celtic players helped design and refine the way they ran their plays at Red's insistence.
Collaboration is very similar to, but more closely aligned than, cooperation.
Are their areas of your life where you can create collaboration?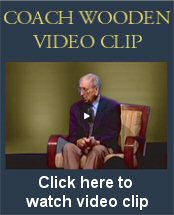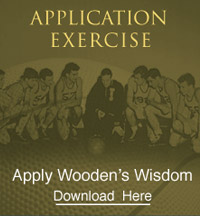 COACH'S FAVORITE POETRY AND PROSE
Our Heroes
Here's a Hand to the person who has courage
To do what they know to be right;
When they fall in the way of temptation,
They have a hard battle to fight.
Who strives against self and his comrades
Will find a most powerful foe.
All honor to him if he conquers.
A cheer for the person who says "No! "
There's many a battle fought daily
The world knows nothing about;
There's many a brave little soldier
Whose strength puts a legion to rout.
And the person who fights sin singlehanded
Is more of a hero, I say,
Than one who leads soldiers to battle
And conquers by arms in the fray.
Be steadfast, my child, when you're tempted,
To do what you know to be right.
Stand firm by the colors of conviction,
And you will o'ercome in the fight.
"The right, " be your battle cry ever
In waging the warfare of life,
And God, who knows who are the heroes,
Will give you the strength for the strife.
Phoebe Cary (1824 – 1871)