MORE THAN JUST WINNING (MORGAN WOOTTEN)
Morgan Wootten was the Basketball Coach at DeMatha High School in Hyattsville, Maryland from 1956 to 2002. His teams had a record of 1274-192. His winning percentage of .869 is the best of any coach in any competitive team sport. His 1274 wins are the second most of any coach in basketball at any level. He was the first high school coach inducted into the Hall of Fame. He started the first basketball day camp in 1961 (over 200,000 youngsters have attended his camps). He started the McDonald's all-star basketball game in 1977 with all proceeds going to charity.
John Wooden said: "It has long been my expressed opinion that Morgan Wootten is one of the finest coaches in the sport of basketball. And he might be the best."
Morgan Wootten began his coaching career as the baseball coach at an orphanage: Saint Joseph's Home for Boys in Washington, D.C., where he went 0-16 in 1951. He also coached football and basketball. In 1953 he became the junior varsity football and basketball Coach at St. Johns High School. In 1956 he started at DeMatha as their varsity coach. DeMatha was so bad they had dropped out of league competition the year before Coach Wootten arrived. Coach Wootten was a self-made coach. He started from scratch.
In his book Coaching Basketball Successfully (a must read for any coach, manager, supervisor or leader) Coach Wootten clearly stated his priorities:
"Forming a coaching philosophy is the first, and perhaps most important, step toward becoming a successful basketball coach. What do you emphasize—winning a basketball game or winning in life? What priorities do you have regarding the development of your athletes as people, not just as basketball players?
After all, the real game we are preparing our athletes for is the game of life.
A fundamental job of a coach is to help the athletes get their priorities in order. We encourage players to devote themselves to four things: 1.God 2.Family 3.School 4.Basketball. Young people who have their priorities in order will have the best chance of getting the most out of their lives, both on and off the court."
His former players echo a common theme:
"He taught us about life." - Sidney Lowe
"It wasn't about basketball, it was about us as people." - Dereck Whittenburg
"He taught me the importance of priorities." - Adrian Dantley
In the process of researching Morgan Wootten I read interviews with many of his former players. I kept hearing the same thing: Coach Wootten helped me get my priorities in order.
Morgan Wootten's legacy is that he taught those he supervised more than just how to win.
What is your philosophy? What will you teach in addition to how to win?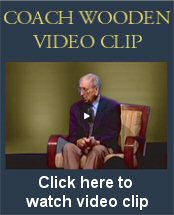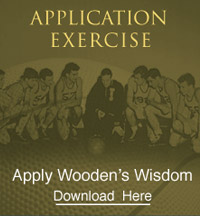 COACH'S FAVORITE POETRY AND PROSE
LANDING OF THE PILGRIM FATHERS
The breaking waves dash'd high
On a stern and rock-bound coast,
And the woods against a stormy sky
Their giant branches toss'd;

And the heavy night hung dark,
The hills and waters o'er,
When a band of exiles moor'd their bark
On the wild New England shore.

Not as the conqueror comes,
They, the true-hearted, came;
Not with the roll of the stirring drums,
And the trumpet that sings of fame;

Not as the flying come,
In silence and in fear;--
They shook the depths of the desert gloom
With their hymns of lofty cheer.

Amidst the storm they sang,
And the stars heard and the sea:
And the sounding aisles of the dim woods rang
To the anthem of the free!

The ocean eagle soar'd
From his nest by the white wave's foam
And the rocking pines of the forest roar'd--
This was their welcome home!

There were men with hoary hair
Amidst that pilgrim band:--
Why had they come to wither there,
Away from their childhood's land?

There was woman's fearless eye,
Lit by her deep love's truth;
There was manhood's brow serenely high,
And the fiery heart of youth.

What sought they thus afar?
Bright jewels of the mine?
The wealth of seas, the spoils of war?--
They sought a faith's pure shrine!

Ay, call it holy ground,
The soil where first they trode.
They have left unstained, what there they found--
Freedom to worship God.
Felicia Dorothea Hemans (1793 – 1835)