DAN GABLE:15 NATIONAL CHAMPIONSHIPS IN 21 SEASONS: A SETBACK IS A SET UP FOR ADVANCEMENT
No one person ever accomplished more in their sport as an athlete and coach than wrestling legend Dan Gable.
As a high school wrestler in Waterloo, Iowa, Gable won all 64 of his matches and three state championships. At Iowa State University he compiled a 118-1 wrestling record, while claiming two NCAA championships.
During 21 seasons as head coach, his University of Iowa teams won 15 NCAA championships and 21 Big Ten Conference championships. During this span he produced 152 All-Americans and 45 Individual National Champions. He also coached the 1984 United States Olympic wrestling team to seven gold medals.
Gable grew up in Waterloo, Iowa. He was the son of two amazing, loving parents who raised him with a great work ethic and a no sulking attitude. His high school and college wrestling coaches are both legendary hall of famers. He loved wrestling and conditioning like no one else, and as an athlete and coach he quite simply outworked the competition.
Coach Gable's book Coaching Wrestling Successfully is very similar to Coach Wooden's Practical Modern Basketball. Gable's approach mirrors Coach Wooden's: "great ethics, humility, amazing attention to detail without confusing the players, concentration on team development not opponent preparation and don't have your wrestlers look at the sidelines for instruction during the match".
In addition to his technical expertise, Coach Gable had an unrelentless approach of learning and improving from every setback. It started when he lost his final college match to Larry Owings in the 1970 National Championship. Gable entered the match undefeated in three years with two consecutive national championships. It was an epic upset. Gable described the aftermath:
"I began intense training, but with a new formula. I would no longer just outwork everyone else. Now I added something new to my training approach. I did much more analysis of tactics and skills that top performers used in freestyle wrestling. I realized that I needed to spend more time on the details, not just outright hard general work, which I was already doing. I started to train smarter, while continuing to outwork everyone. The loss became a turning point for me. As I have said many times, I won 181 matches, lost one, and then got good."
At the 1972 Olympics, he won a gold medal without surrendering a single point to any of his six opponents.
The lesson carried over and defined his coaching philosophy.
When asked about the transition to coaching, Gable said: "You have to outwork your players. They must believe in you and know that you have their best interests at heart. And if you coach ten years, you must be ten times smarter your tenth year. You have to stay on top of everything that is new in your field and improve."
Coach Gable learned you can't rely on past success for future results.
What do you rely on?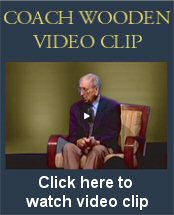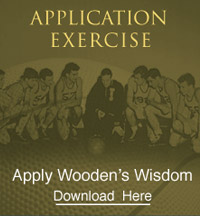 COACH'S FAVORITE POETRY AND PROSE
from The Prelude (Book IV, lines 354-70)
When from our better selves we have too long
Been parted by the hurrying world, and droop,
Sick of its business, of its pleasures tired,
How gracious, how benign, is Solitude;
How potent a mere image of her sway;
Most potent when impressed upon the mind
With an appropriate human centre--hermit,
Deep in the bosom of the wilderness;
Votary (in vast cathedral, where no foot
Is treading, where no other face is seen)
Kneeling at prayers; or watchman on the top
Of lighthouse, beaten by Atlantic waves;
Or as the soul of that great Power is met
Sometimes embodied on a public road,
When, for the night deserted, it assumes
A character of quiet more profound
Than pathless wastes.
William Wordsworth (1770-1850)