DO IT RIGHT - EVERY TIME (VINCE LOMBARDI)
Vince Lombardi is considered by many to be the greatest coach in football history, He is more significantly recognized as one of the greatest coaches and leaders in the history of any American sport.
In 1959, Lombardi became the head coach of the Green Bay Packers. The year before his arrival the Packers were 1-10-1. In his nine seasons as head coach, Lombardi's Packer's won six conference titles and five NFL championships, including three in a row which included the first two Super Bowls.
Some of Lombardi's key ideas have been misunderstood and taken out of context. In his biography, When Pride Still Mattered, David Maraniss gives two good examples:
The most famous saying attributed to Lombardi—"Winning isn't everything, it's the only thing." did not originate with him. He said it a few times but it did not reflect his philosophy. To Lombardi, it was the pursuit of excellence that mattered most. He was often harder on his teams when they played poorly but won than when they played well and lost.
Lombardi actually said: "Winning is not everything – but making the effort to win is". Lombardi was certainly a task master in pursuit of perfection. He said: "You don't do things right once in a while; you do them right all the time."
Maraniss explained how Lombardi's leadership style also got mischaracterized:
There is a myth of Lombardi's leadership methods. It was Henry Jordan, a defensive tackle for the old Packers, who uttered the oft-repeated phrase "Lombardi treats us all alike, like dogs." Memorable, but inaccurate.
Lombardi was an adept psychologist who treated each of his players differently. He rode some mercilessly but stayed away from others, depending on how they responded. He did not mind oddballs—his teams were full of them—as long as they shared his will to excel.
Lombardi was a master motivator and teacher. He described it this way:
"You can't coach without criticizing, and it's essential to understand how to criticize each man individually. … Football is a pressure business, and on my teams I put on most of the pressure. The point is that I've got to learn 40 ways to pressure 40 men."
"They call it coaching, but it is teaching. You do not just tell them it is so, but you show them the reasons why it is so and you repeat and repeat until they are convinced, until they know."
The most valuable lessons I learned from my study of Vince Lombardi were:
Pursue a goal that you are excited about.
Build a team of people with a good work ethic that share your enthusiasm. Get rid of the bad apples as quickly as you can.
Build a system that is based on the most important fundamentals, Keep it simple and demand the perfect execution of those fundamentals every time.
Give your team the flexibility to innovate within the execution of those fundamentals.
Be clear that the team will only be inspired if you are inspired.
What are you excited about?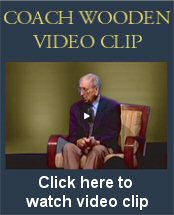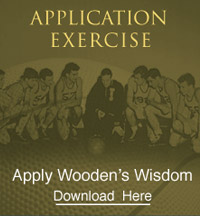 COACH'S FAVORITE POETRY AND PROSE
A BRIGHTER SUN
When all alone, I meditate,
On what, or why it's hard to state.
On life—ah yes! Sometimes I do,
And then again—on "death"—do you?

The setting sun ignites my plight,
Because it hides away the light
And leaves me lonely in the gloom,
To contemplate man's certain doom.

The thought of death does not bring fear,
And endless life would bring no cheer.
I merely wonder, if while on earth,
To mankind, can I prove of worth?

Before eternity takes me,
My fondest hope is but to see,
And know that something I have done,
Has made for some—a brighter sun.
John Wooden - September 18, 1939