CHARACTER, KINDNESS AND THOUGHTFULNESS - (BUD WILKINSON)
As the Head Football Coach at the University of Oklahoma from 1947 to 1963, Bud Wilkinson's teams won three national championships. Between 1953 and 1957 they won 47 consecutive games, which stands as the longest winning streak in the history of college football. Nearly 90% of his players graduated. After retiring, he served as a key figure in the administrations of five presidents.
In the book Dear Jay, Love Dad: Bud Wilkinson's Letters to His Son written by his son Jay Wilkinson, Bud Wilkinson gives his Son great advice. Here are some excerpts:
Bud Wilkinson on dealing with adversity:
"Take things as they come—in stride—make what seems to be the sensible, wise decision when the time for decision is at hand. To fret and fuss over what decision you might make before you actually are in position to make a choice is truly a foolish waste of time.
Only by facing the future and accepting new and progressively more difficult challenges are we able to grow, develop, and avoid stagnation."
Bud Wilkinson, on how to attain peak performance and approach competition:
"You need to prepare yourself mentally and physically for everything that you do. When the task is over—a game, an examination, a speech, an interview, a business presentation, anything—you must analyze your performance and make notes of what you could have done better. Resolve to do those things better—through attention to detail and practice—and then go on to the next of life's tests and problems.
Never be discouraged if you don't do too well—or over elated when you make a good play. We compete, not so much against an opponent, but against ourselves. The real test is this: Did I make my best effort on every play?"
Bud Wilkinson on what is important in life:
"Only by defining your goals—planning how to achieve them—and preparing properly, is it possible to cause things to happen your way—instead of reacting to events stimulated by others. You must do what seems right to you. Don't ever be swayed by what "other people will think." "Dare to be a Daniel; Dare to stand alone." It is the best advice one can have for happy, successful living.
Character, kindness and thoughtfulness toward other people, and an unselfish attitude of service to others are the qualities which make a person."
Bud Wilkinson on how to evaluate if you have the right job:
Are the responsibilities sufficient to test your talents?
Do you have an opportunity to fully utilize your own initiative—to make your own unique contribution?
Does the activity give you an opportunity to serve others? To turn outward givingly - not inward selfishly?
Most important, does the activity bring you personal happiness and satisfaction? One must be happy on a day to day basis to do anything well.
How would you answer these questions about your job?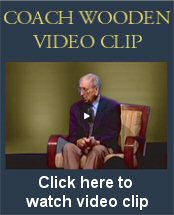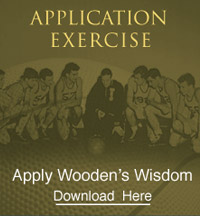 COACH'S FAVORITE POETRY AND PROSE
Mizpah
GO THOU thy way, and I go mine,
Apart, yet not afar;
Only a thin veil hangs between
The pathways where we are.
And "God keep watch 'tween thee and me";
This is my prayer;
He looks thy way, He looketh mine,
And keeps us near.

I know not where thy road may lie,
Or which way mine will be;
If mine will lead thro' parching sands
And thine beside the sea;
Yet God keeps watch 'tween thee and me,
So never fear;
He holds thy hands, He claspeth mine,
And keeps us near.

Should wealth and fame perchance be thine,
And my lot lowly be,
Or you be sad and sorrowful,
And glory be for me,
Yet God keep watch 'tween thee and me;
Both be His care;
One arm round thee and one round me
Will keep us near.

I sigh sometimes to see thy face,
But since this may not be,
I'll leave thee to the care of Him
Who cares for thee and me.
"I'll keep you both beneath my wings,"
This comforts, dear;
One wing o'er thee and one o'er me,
Will keep us near.

And though our paths be separate,
And thy way is not mine,
Yet coming to the Mercy seat,
My soul will meet with thine.
And "God keep watch 'tween thee and me,"
I'll whisper there.
He blesseth thee, He blesseth me,
And we are near.
Julia Aldrich Baker (1854-1907)