EVERBODY NEEDS A COACH - (JOE GIBBS)
Joe Gibbs is regarded as one of the greatest coaches in the history of professional football. As the head coach of the Washington Redskins form 1981 to 1992, Gibbs won three super bowls. He is one of only four coaches to do so and the only coach in history to win each super bowl with a different quarterback, none Hall of Famers. Gibbs worked as an assistant coach for sixteen years before becoming a head coach, serving under legends Don Coryell, John McKay, Frank Broyles and Bill Peterson. That being said, Gibbs is adamant that his most influential coach was George Tharel, who taught the adult Sunday school class at the church Gibbs attended in Fayetteville, Arkansas in 1971. A musician and a reader, George managed a JC Penney's store and was known as a pillar of his community. Gibbs refers to Tharel as his spiritual father and it was his influence that determined ultimately how Gibbs would live his life.
After he retired from football, Gibbs became one of the most successful owners in auto racing history, winning four NASCAR Cup Series Championships as owner of Joe Gibbs Racing. He also wrote four excellent books which all had the same purpose: to encourage the reader to live a life with God as your Coach and The Bible as your game plan.
In his book Racing to Win, Gibbs describes what he believes are key elements of great leadership:
"I recall seeing an old war movie in which a general was leading his troops on a difficult, desperate march. They stopped just long enough so the troops could eat. When a sergeant brought the general his meal, an elaborate lunch from the mobile galley, the general took one look and asked, "Is this what the men are eating?"
"No, sir. It is not," the sergeant replied. "Bring me what the men are eating," ordered the general. "That way I'll know how far they can go."
This general was a leader, not simply a boss.
I have found that the most effective way to bring out the best in people on my team is to lead by example. You have to pay a price to be that kind of leader. You often have to be the first to work and the last to leave. You must be one of the hardest, most conscientious workers, producing the best quality product possible.
Model the characteristics you want to see in your team members—hard work, self-discipline, diligence, honesty, and integrity. Lots of managers don't care for this approach. They want to tell other people what to do. They want to delegate responsibility, to assign other people to do the dirty work while they get the glory, the awards and the big paychecks. But if you're leaving early, passing the buck and leaving the big decisions to someone else, believe me, that's the behavior your people will emulate."
What's the behavior you are giving your team members to emulate?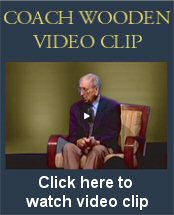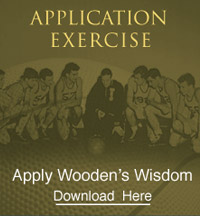 COACH'S FAVORITE POETRY AND PROSE
Plain Old Oyster
There once was an oyster
Whose story I tell,
Who found that some sand
Had got into his shell.
It was only a grain,
But it gave him great pain.
For oysters have feelings
Although they're so plain.

Now, did he berate
The harsh working of fate
That had brought him
To such a deplorable state?
Did he curse at the government,
Cry for election,
And claim that the sea should
Have given him protection?

No - he sad to himself
As he lay on a shell,
Since I cannot remove it,
I shall try to improve it.
Now the years have rolled around,
As the years always do,
And he came to his ultimate
Destiny - stew.

And the small grain of sand
That had bothered him so
Was a beautiful pearl
All richly aglow.
Now the tale has a moral;
For isn't it grand
What an oyster can do
With a morsel of sand?

What couldn't we do
If we'd only begin
With some of the things
That get under our skin.

Author: Unknown