A LEADER DOESN'T HAVE TO BE LOUD - (CHUCK NOLL)
Chuck Noll is regarded as one of the greatest coaches in the history of professional football, Noll coached the Pittsburgh Steelers from 1969 to 1991. He is the only coach in history to win back to back Super Bowl championships twice (1974-75 and 1978-79). His four Super Bowl championships are second only to Bill Belichick (5). There are some valuable lessons to be learned from Coach Noll:
"Don't get so busy making a living you forget to make a life."

Noll led a balanced life. Even during the season he was home for dinner with his family five nights a week (never later than 8 p.m.). Noll also had many interests outside of football. He was a licensed pilot, could skipper a yacht, a wine aficionado, gourmet cook, horticulture expert, audiophile and even made a guest appearance to conduct the Pittsburgh Symphony.

Be a teacher, don't rely on emotion to deliver performance.

At his first practice with the Steelers (who hadn't won a conference title in 35 years), Noll arrived on the practice field and heard the usual pre practice whoops and yells. Noll blew his whistle and said: "You don't win football games with noise—cut the false chatter." Noll put it this way: "I am not a motivator. I do not holler or pound on the table. We [the coaching staff] are just choosers and teachers. We try to choose self-motivators and then teach them." His pregame speech before his Super Bowl Championship in 1974 was: "Play the way you've been coached. You're going to have a good time." His speech before 1975 Super Bowl when they won again was more of the same: "Guys, this is what we played for all year. Let's go out and play." Appealing to the emotions of his players to deliver performance belied his sensibilities.

Focus on now. Don't carry around the past.

A few days prior to the Steelers repeating as Super Bowl champs in 1975 Noll called a team meeting because he felt the team was carrying around the past; too focused on the last year and worried about defending their Super Bowl Title. He told them this story:
"This reminds me of the two Tibetan monks who are walking in the mountains, and they come to a swift stream. On the bank they find a damsel in distress. She doesn't know how to cross the stream without hiking up her skirt. The monks see her problem and agree to help her. The first monk picks her up in his arms, wades across the stream, sets her back down on the shore, and continues on the journey. The monks walk in silence for another mile or so when the second monk says to the first, "You know, the rules of our order prohibit physical contact with members of the opposite sex." They walk on in silence until the first monk responds, "That is right. But I put the lady down on the other side of the stream. You're still carrying her."
What are you still carrying? How long will you keep carrying it (one day,one month one year)? The decision is yours!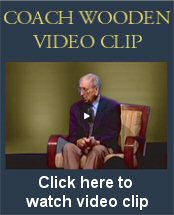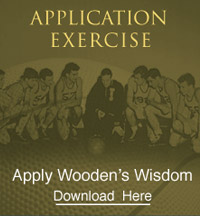 COACH'S FAVORITE POETRY AND PROSE
Little Eyes Upon You
There are little eyes upon you and they're watching night and day.
Take in every word you say.
There are little hands all eager to do anything you do;
And a little girl who's dreaming of the day she'll be like you.
You're the little angel's idol, you're the wisest of the wise.
In her little mind about you no suspicions ever rise.

She believes in you devoutly, holds all you say and do;
She will say and do, in your way when she's grown up just like you.
There's a wide-eyed little girl who believes you're always right;
And her eyes are always opened, and she watches day and night.
You are setting an example every day in all you do;
For the little girl who's waiting to grow up to be like you.

Kimberly Sedlacek